Holiday Spotlight on Lofty Lou's Yarn Shop, A Knitting, Crocheting, and All Things Fiber Crafts Shop at 263 Main Street
---
We're pleased to include Lofty Lou's Yarn Shop in our Holiday Spotlight Series.
We're spotlighting many of the unique businesses that make up Downtown Placerville so that you can learn of the opportunities you have to shop locally and support local businesses, their families, and ultimately our community.
We connected with them to learn more about Lofty Lou's Yarn Shop at 263 Main Street.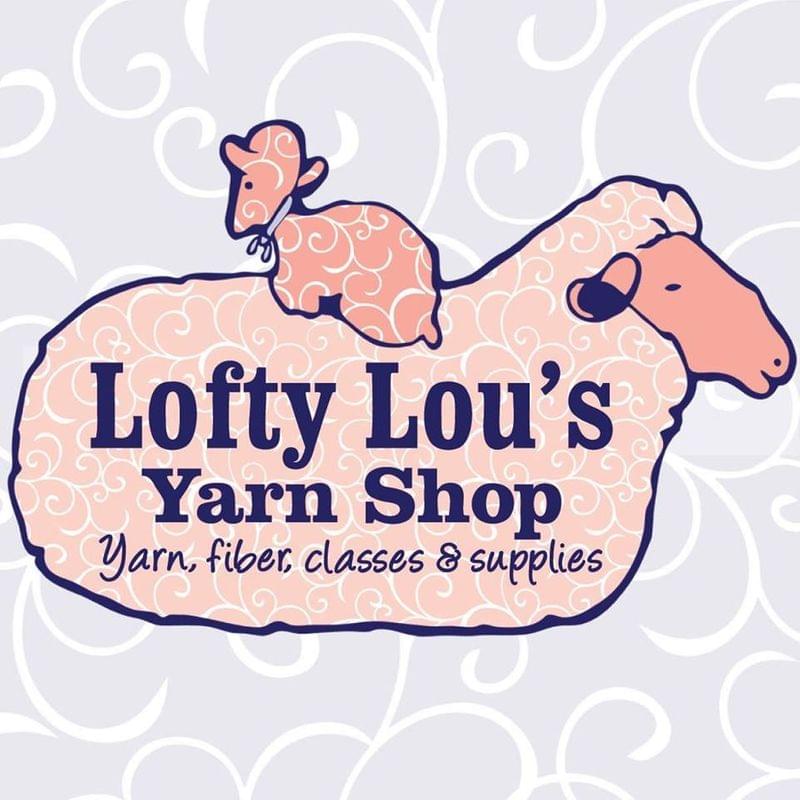 How would you describe your business to a friend?
Lofty Lou's is where fiber comes to life in the Foothills.
We specialize in everything to do with fiber crafts - from knitting and crocheting, to spinning, felting, and weaving - plus classes in all five disciplines.
Of course, we also offer yarn to fit every budget and in every fiber, from washable acrylic to yarn spun from local alpacas.
We also provide a peaceful haven to customers, who can sit and knit or crochet at the big, sunny table in the front of the shop.
Why did you start the business?
The original Lofty Lou had been in business for over 20 years in Downtown Placerville and four years ago had to sell the shop due to health problems.
When a single buyer didn't appear, 26 women started meeting weekly to figure out how to purchase and run the shop. Pooling our resources and a variety of professional backgrounds, we launched a new chapter in the store.
Two years ago we moved to a much larger store closer to the center of Main Street and we're currently owned by 24 women (and one man) all of whom contribute in some way to the shop.
What do you love most about it?
Our amazing customers who appreciate what we are doing to keep a yarn shop in our small town!
And the talent and dedication of our owners (who have changed over the four years), but share our enthusiasm for all things fiber and working hard to make the shop more efficient. 
What is something you wish people knew about your business?
That the shop is run entirely by owners who work for whatever we can pay out at the end of the year. We do this for the love of the shop!
Most popular product or service?
Our extensive list of classes (offered seven days a week) is a tremendous draw and really sets us apart.
What is the biggest compliment your business has received?
Daily people walk into the shop, take a deep breath, and say, "It's so peaceful and non-stressful in here!" We strive to keep the shop that way!
Our shop is filled with a tremendous selection of yarns at prices to meet every budget and in every fiber, from washable acrylic (perfect for baby blankets) to luxurious cashmere and yak and everything in between. Lots of sample swatches and garments knit by our "Lofty Ladies" are on display to provide inspiration.
Why did you choose to be on Main Street in Placerville?
We're located on Main Street because Downtown Placerville is a destination stop on the way to Apple Hill and Tahoe.
For locals, it's a small town with lots of activities for the arts and families. 
Are you involved with any local non-profits or community groups you would like to give a shout out to?
We participate regularly in Alice's Embrace, a charity that provides handmade prayer shawls and lap blankets to those suffering from Alzheimer's disease.
We have also supported a former teacher's trip to Ghana with crochet, knitting, and other supplies for her students.
We provide support and carry patterns and yarns for Knitted Knockers, a charity that makes handmade breast prosthesis for women who have undergone mastectomies.
We have offered free classes at local libraries, too.
Lofty Lou's is staffed by our owners, who meet shoppers with a smile and are happy to help them select the perfect yarn or tool, and even to provide some assistance on projects.
Do you have any upcoming Events?
We just had 50 people take advantage of free knitting lessons with all supplies included and are now expanding our classes to offer more options for these brand-new knitters.
In June, you'll find us participating in World Wide Knit in Public Day, a day set aside for spreading the word about knitting and its many benefits. We love sharing our healthy addiction for fiber arts!
Lofty Lou's also attracts celebrity instructors/authors to our shop to offer workshops.
On February 8 and 9 we'll be hosting Cecelia Campochiaro, author of Sequence Knitting, who will teach three new classes using her special technique.
Any new products/services we should know about?
We recently became the sole U.S. distributor for a line of luxury yarn we import directly from New Zealand!
Our education team is constantly coming up with ideas for new classes to fit the needs and desires of our students. Some of our latest upcoming classes include Knitting University for Beginners and two sweater workshops. 


---
---